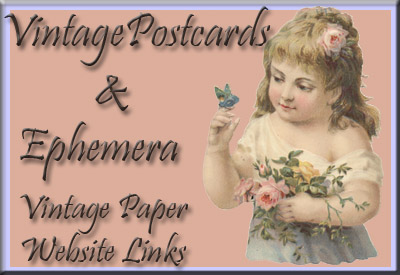 Whimzy Treasures Vintage Paper Collectibles Store and Auctions
Welcome to my Vintage Postcards

&

Victorian Paper Collectibles store!

WWW.VICTORIAN-IMAGES.COM
I have a large collection of Vintage Postcards,Vintage Art Deco and Mid Century Ads, Victorian Ephemera and Paper collectibles from the 1800s through the 1900s. Victorian Trade Cards,Vintage Valentines,Victorian Die-cut scraps, Dresden scraps.
If your looking for anything special feel free to email me!
Check out my other Vintage Paper sites, for more paper items,Vintage Jewelry & Collectibles

My Newest store !WHIMZY TREASURES at Go Antiques! Vintage Paper and Ephemera!
Online Paper Website! Beautiful Vintage Paper!

Whimzy Treasures At Tias

My new online Postcard & Vintage Paper Auctions and Online Store
My Store and Auction Website Playle's
Please Sign My Guest Book!

Postcards Townviews | Postcards General
Valentines & Ephemera | Victorian Trade cards
Postcard Reference grading | Trade Card reference grading
About me Page | Collectible Corner |
| My Favorite Links
Contact Information purchase | Guest Book

Free counters provided by Honesty.com


Arts Antiques Banner Exchange Program


Click here to get 1000's of guaranteed hits to your web site!